EMSPORTO2014 will take place in the auditorium of the well known port wine establishment Porto Cálem. Gaia which is a short walk across the Douro river on the Ponte Luis I bridge from downtown Porto. The event will have a continuous provision for coffee and snacks and opportunities for interaction. Free wireless and adequate power outlets in the auditorium will be provided for all participants.
Porto Cálem is served by a Metro line. Participants are urged to take public transport.
Those who will be using their personal vehicles can park just around the corner from Cálem at Parque D. Luís I (see map below). Prices are at 6€ for 24 hours with a 20% discount from Cálem. Contact us at registration time.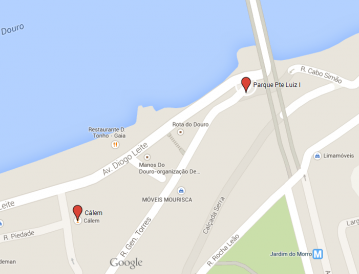 Distance from Cálem to Parque Pte Luiz I